Services
At Bridger Animal Hospital, we provide many services for our small animal patients. Our veterinarians and support staff care deeply about the wellness of each patient. Here's what we offer our valued clients and their pets:
Wellness Exams
New puppy or kitten? Healthy dog or cat? We offer routine wellness care to new and existing patients, including annual exams, vaccinations, toe nail trims, anal gland expressions, ear cleanings, nutritional recommendations, and more!
Sick Pet Exams
Fido get into the garbage or rat poison? Old pal Rex becoming painful or not eating? Do you have an itchy pet? We can help you with that!
Routine Surgery
Need a pet spayed or neutered? Have a litter of puppies who need their tails docked and dewclaws removed? Our veterinary team can help you with that!
Non-Routine Surgery
For those moments when the unexpected happens and your pet needs surgery, we offer various surgical options and specialty referrals. So whether your pet suffers from a golf ball lodged in his small intestine, or bladder stones, our veterinary team can help you with that.
Digital X-Ray
We offer high quality digital x-ray technology to our patients. When required, we also can consult with specialized radiologists on your patient's case.
Dental Care
Over 68% of all dogs over the age of three are estimated to have some form of periodontal or dental disease. Dental health is imperative to your pet's overall health. Many of the health issues we see today stem from dental disease. We offer routine dental care including cleanings and extractions.
In-House Pharmacy
Our pharmacy has a lot to offer our clients and their pets. For most situations, we can send you home with exactly what your pet requires. We also have the ability to get compounded medications specifically for your pet.
In-House Diagnostic Lab
We call this a window to your pet's health. Our in-house laboratory can provide us with vital information about infection, organ function and more.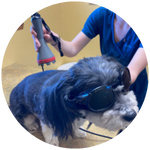 Therapy Laser
Beneficial to both small and large animals, therapy lasers drastically improve healing times, and aid in pain management. Treatments are offered on site by our trained veterinarians and technicians. Treatments are both fast and economical, while providing vast benefits.
Ultrasonic Imaging
Ultrasound technology provides non-invasive diagnostic information regarding your pet's condition. We often use ultrasound in abdominal exams, bladder imaging and pregnancy determination, among many other uses.
Pet Cremations
Mountain Dove Pet Cremations is our in-house pet crematory. Our team members care deeply about their patients and take great care in treating your pets with respect and kindness during the cremation process. We offer private cremations, paw prints, and communal cremations for those clients who don't wish to take their pet's cremains home.
Retail & Nutrition
At Bridger Animal Hospital we offer prescription diets by Hill's, maintenance diets by Science Diet, and various treat and supplement options. We also carry leashes and collars, pet odor eliminator candles, pet toys, pet grooming supplies, and more.