Haystack Pet Resort
Do you need a loving and clean environment for your dogs while you are away? Our Haystack Pet Resort can help!
All potential boarders must be current on vaccinations prior to boarding.

For reservations and more information, please reach out to us. We'd love to chat!
Call Us & Book Today!

State of the Art Facility
With resort bedding, raised beds, heated floors, air conditioning, high quality diets, and impeccable cleanliness, your pets will be very comfortable during their stay.

Loving Staff
We make it a priority to only hire people who love animals. All of our resort staff love our boarders like they are their own pets.

Hill's Digestive Care i/d Diet
We recommend that our pet owner's bring their own food to minimize the digestive upset experienced by their pet during their stay. However, we do provide a high quality prescription strength sensitive stomach diet to all of our boarded pets to ensure proper nutrition, while also minimizing digestive upset during their stay.

Cleanliness is a Top Priority
Our resort manager and technicians are highly trained in proper cleaning techniques. We've never smelled a better smelling boarding facility! We use a dual-active cleaner-disinfectant formulated to be effective against a broad spectrum of organisms for use in veterinary practices and pet resorts.
Who will be taking care of your pets?
We are beyond blessed to have the best resort manager and technicians to care for your pets while you are away. We also have the added benefit of being located within a veterinary hospital, so if your pet needs veterinary attention during their stay, our veterinarians are here to help.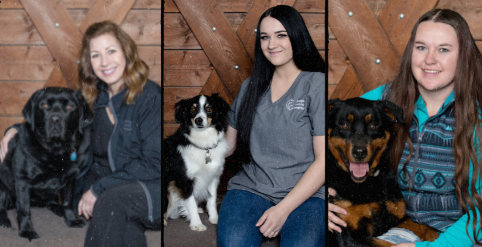 Haystack Pet Resort hours are listed below. We do offer after hour pick up for an additional fee. Call us for more information. See you soon!
Book Your Stay